The conference is to be held in Chengdu.
1. About Chengdu:
<![if !supportLists]>- <![endif]> Introduction
Situated in the heart of the fertile Chengdu Plain, west of the Sichuan Basin, Chengdu is the capital of Tian Fu Zhi Guo, the 'Heavenly State'. A 2,400-year-old past has left the city with various historical sites surrounded by picturesque scenery.

Since the Han Dynasty (206 BC to 220 AD), Chengdu has been renowned for its brocades and embroideries that still enjoy a high reputation thanks to their delicate designs. The city was also the location where the bronze culture originated, where the Southern Silk Road began, and where the first paper currency was printed.

One of Chengdu's main draws is the amazing Thatched Cottage of Du Fu, the residence of the most famous poet who lived during the Tang Dynasty over 1,000 years ago. Covering 37,000 square meters, the impressive 6th-century Wuhou Temple was dedicated to the Martial Marquis of Shu, while Wenshu Monastery is the city's best-preserved Buddhist temple featuring hundreds of bronze, stone and wooden statues.

Undoubtedly one of the major objectives of visitors to Chengdu is the world's only Panda Breeding Research Center, which is just 10kms away from the city center. Occupying an area of 370,000 square meters, the center has imitated the giant panda's natural habitat and also cares for other rare or endangered wild creatures. Aside from sleeping quarters, a fodder room and a medical station, there is the Giant Panda Museum as well.
<![if !supportLists]>- <![endif]>Getting There & Away:
Chengdu is Southwest China's largest transportation hub providing access to Qinghai, Yunnan and Tibet. Chengdu Shuangliu International Airport is around 20kms from downtown Chengdu and offers flights to over 70 domestic and more than 20 international destinations such as Tokyo, Seoul, Bangkok, Kuala Lumpur, Singapore, Delhi and Kathmandu as well as to London, Sydney, Melbourne, Los Angeles and Vancouver. Chengdu Airport is a 2-hour flight from Beijing. Besides that, Chengdu Tianfu International Airport to be officially opened in 2021, Chengdu becomes the third city in our country that has two international airports, after Beijing and Shanghai. The airport is in Lujia, Jianyang. It is about 50 kilometers from Tianfu Square (Chengdu City Center), 51 kilometers to Chengdu Shuangliu Airport, 42 kilometers to Chengdu East Train Station, and 30 kilometers to Tianfu Train Station. To get to the airport from the city center, passengers can take the subway, high speed train, bus or drive, No matter what kind of transportation means the passengers use, they can arrive at the airport in about 30 minutes, It is really convenient. Chengdu Railway Station provides connections to major cities plus a tourist express train serving adjacent areas, and you will also find several main bus stations in the city.
2. Things to Do:
Chengdu Attractions:
<![if !supportLists]>o <![endif]>Thatched Cottage of Du Fu
The remarkable residence of one of china's most celebrated poets was created over 1,000 years ago.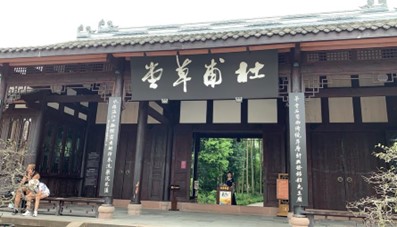 <![if !supportLists]>o <![endif]>Dujiangyan irrigation system
Dujiangyan irrigation system is the world's oldest and only remaining grand water conservancy project featuring damless water diversion.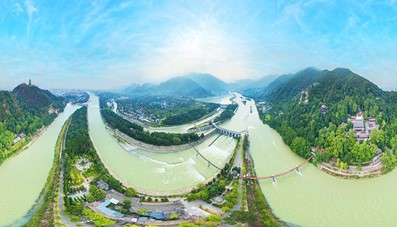 <![if !supportLists]>o <![endif]>Chengdu Research Base of Giant Panda
The world's center for giant pandas, this is a major tourist pull where you can observe these beloved animals at close range.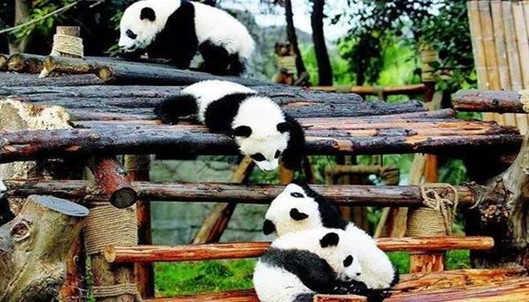 <![if !supportLists]>o <![endif]>Wuhou Temple
Built in the 6th century, this imposing temple covers an area of 37,000 square meters.